At Shopify, there are over a million independent businesses representing various industries and owners from different walks of life. Each of them is making their mark in the world of commerce and creating positive change. We've compiled a list of inspiring Shopify fashion stores that can serve as motivation for those starting their own business.
These brands are doing incredible things like recycling waste into fabrics, preserving heritage crop varieties, crafting popular beauty products, and promoting sustainable practices by reducing single-use items.
Their stories show how entrepreneurship can be a force for good, making a difference in the world and inspiring others to follow suit.
10 Trendy Shopify Fashion Stores
Take a look at these 10 trendy fashion stores, where businesses are expressing their individuality and beliefs while setting the stage for the future. Get inspired by their creativity and style as you embark on your journey to launch an online boutique.
From chic clothing to fashionable accessories, these stores offer valuable insights to help you create a unique and standout brand in the world of fashion. Let their success fuel your passion for building a remarkable fashion store of your own!
1. Etoile la boutique
In 2005, Ingie Chalhoub, the founder of Etoile Group, brought a revolution to luxury retail in the region by opening Etoile La Boutique – the first luxury multi-brand store of its kind. Since then, it has become a fashion lover's paradise, making waves in the industry.
Presently, Etoile La Boutique remains at the forefront of the retail industry, offering an exclusive platform for brands to expand their reach and connect with a diverse audience across the entire GCC region.
With locations in Dubai, Abu Dhabi, Doha, and Riyadh, it has become the go-to destination for exclusive and sought-after brands that every fashion-savvy woman desires. From ready-to-wear collections to shoes, bags, accessories, and exquisite jewelry, Etoile La Boutique has it all.
Etoile La Boutique stands out through its dedication to empowering talented brands with a social message and purpose. They take pride in showcasing brands that contribute to society, champion women's empowerment, and prioritize sustainability. With a dedication to providing the best retail experience, both in-store and online, Etoile La Boutique continues to shape the fashion landscape in the region.
2. BySymphony
BySymphony is the ultimate destination for luxury Shopify fashion stores in the Middle East, located on the Ground Floor, of Fashion Avenue, The Dubai Mall. Curated by Symphony, the online boutique offers a wide range of international designers like Issey Miyake, Toni Maticevski, and more.
Standing out from other retailers, BySymphony is renowned for its enviable collection of designer dresses and eveningwear suitable for lavish events.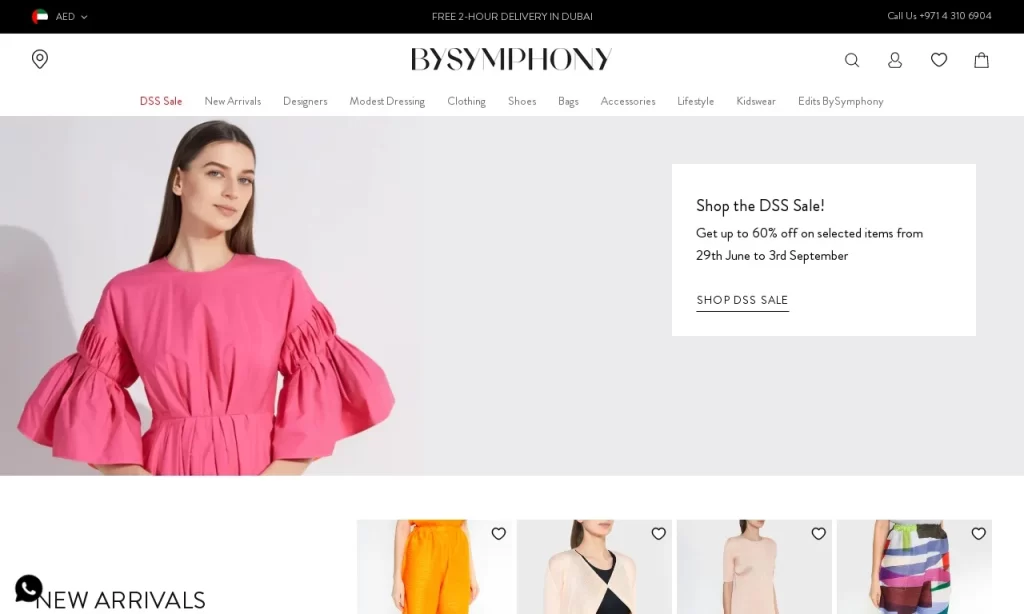 They carefully edit selections to cater to the women of the GCC, offering a conservative yet on-trend style. Visitors can explore designer dresses, handbags, shoes, and accessories from top brands.
Daily newsletters update customers with the latest arrivals, editorial campaigns, and exclusive sale promotions. With a team well-connected to the fashion Shopify stores, BySymphony provides an exceptional luxury shopping experience, celebrating personal style and high-end fashion online.
3. Kashkha
With a rich history spanning over 30 years, Kashkha is a prominent international retail brand, offering a unique blend of traditional Arabian fashion and modern style. Specializing modestly, the label presents a diverse collection of women's clothing, including Jalabiyas, Hijabs, Modest fashion store Shopify theme, and Nightwear for various occasions.
Boasting a presence in over 30 stores across several countries, including the UAE, France, Singapore, and more, Kashkha is dedicated to providing customers with an exceptional experience, featuring top-notch fabrics, craftsmanship, and attention to detail. The brand's name, meaning 'Beautiful' in Arabic, embodies its commitment to redefining Arabian fashion while staying rooted in tradition.
Embracing sophistication and simplicity, Kashkha's creations encapsulate the essence of remarkable women celebrating the legacy of modest fashion. With an extensive retail network, including a global online platform, Kashkha continues to thrive and connect with Shopify fashion stores-conscious women worldwide. Visit their online store at www.kashkha.com to explore their exquisite offerings.
4. 4AG Clothing Fashion Store On Shopify
In 2009, 4AG started as a lifestyle brand in sunny Los Angeles, California, aiming to spread goodness and positivity through urban streetwear fashion, entertainment, and media. They set themselves apart with unique calligraphy art and ancient geometric patterns on high-quality handmade fabrics. Each piece not only looks trendy but also carries a special identity.
In 2016, 4AG made a fresh start in vibrant Dubai, UAE, bringing its inspiring collection to the world. Discover their eye-catching designs that celebrate urban culture and radiate positive vibes. Join the movement and embrace the goodness with 4AG!
5. Adored Vintage 
Adored Vintage, one of the finest Shopify stores, offers a captivating collection of vintage clothing and vintage-inspired modern pieces. Stepping into their website feels like strolling through a romantic French countryside. Owner Rodellee Bas's love for timeless silhouettes drives her curation and creation of exquisite pieces.
In addition to their stunning fashion Shopify stores, Adored Vintage is committed to giving back. They donate a portion of their revenue to support local classrooms, showcasing their dedication to making a positive impact. Rodellee also plays a crucial role as a mentor, empowering and guiding other women in business.
Adored Vintage's blend of vintage charm, philanthropy, and mentorship makes them an inspiring example of how fashion stores and commerce can be a catalyst for creativity and giving back to the community.
6. Goodfair For Shopify Fashion Store
Goodfair, founded by Topper Luciani, is on a mission to rescue clothing destined for landfills and give it a new lease of life. Unlike traditional vintage retailers, Goodfair offers customers the thrill of mystery bundles instead of listing each item individually.
This unique approach not only saves time and money for the company but also allows them to pass on the savings to their customers.
By taking a stand against fast fashion store Shopify theme, Goodfair is spearheading a low-carbon initiative that is revolutionizing the way people shop for preloved fashion pieces. With a commitment to sustainability and reducing waste, they are making a positive impact on the environment while offering stylish and affordable options to conscious consumers.
7. Kirrin Finch
Step into the world of Kirrin Finch, one of the coolest Shopify fashion stores, challenging traditional norms with their gender-defying clothing. Inspired by menswear and designed for a wide range of female and non-binary bodies, their collection celebrates diversity and individuality.
Meet the incredible co-founders, Kelly and Laura Moffat, who are passionate about sustainability. They carefully select eco-friendly fabrics and work with ethical manufacturers, reducing their impact on the environment.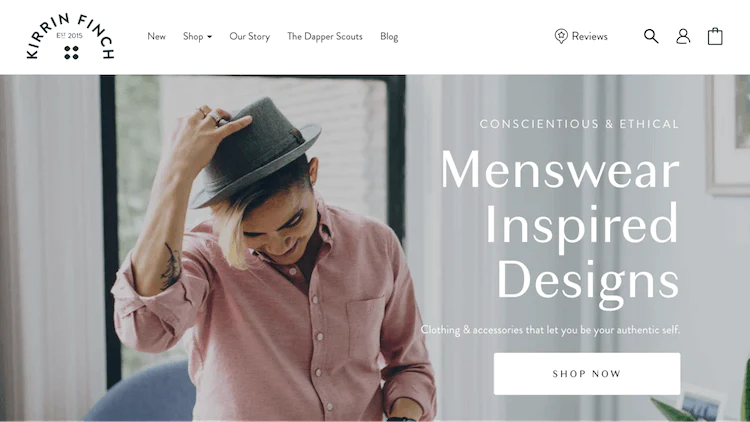 Kirrin Finch's unique blend of style, inclusivity, and eco-consciousness proves that fashion stores can be both empowering and responsible. Embrace your authentic self with their fabulous clothing options and join the movement for a more inclusive and sustainable future.
8. Rothy's Fashion Store On Shopify
Introducing Rothy's, one of the best fashion Shopify stores, where stylish footwear and accessories are made from eco-friendly materials using cutting-edge 3D knitting technology. They go the extra mile for sustainability, striving for zero waste in their operations.
Impressively, Rothy's has already transformed over 60 million plastic water bottles into trendy bags and shoes. Their shoeboxes are so durable that they require no extra packaging during shipping, and they are even biodegradable, made with 85% recycled materials.
By choosing Rothy's, you not only get fashionable and comfortable products but also contribute to a greener planet. Step into sustainable style and be a part of their mission to make Shopify fashion stores more eco-friendly!
9. Beefcake Swimwear
Beefcake Swimwear, curated by Mel Wells, is a labor of love that took over two years to create and launch. Drawing inspiration from the elegance of 1920s fashion, this unique line offers sustainable and ethically made swimsuits with an androgynous touch.
In a bid to support fair labor practices, each suit is carefully crafted by skilled artisans in Portland, Oregon, earning a living wage. Mel remains dedicated to transparency and has openly shared the breakdown of costs for producing each piece of Beefcake Swimwear.
By choosing these thoughtfully produced swimsuits, you not only embrace a timeless fashion statement but also contribute to a world of sustainability and ethical manufacturing. Dive into the elegance of Beefcake Swimwear and join the movement for conscious and stylish swimwear.
10. Suta
Suta, a fashion house founded by sisters Sujata and Taniya Biswas, is a heartwarming tale of empowerment and sustainability. Based in Mumbai, India, their mission is to uplift weavers and artisans from marginalized communities by providing them with employment opportunities and using eco-friendly fabrics.
At Suta, traditional craftsmanship meets contemporary design as they blend handwoven fabrics with timeless saree silhouettes, dresses, and blouses. Their collection beautifully captures the essence of tradition, creativity, and style.
By choosing Suta's pieces, you not only embrace exquisite Shopify fashion stores but also support a cause that promotes fair labor practices and environmental consciousness. Step into the world of Suta and be a part of their inspiring journey towards a more inclusive and sustainable future.