Looking to find the perfect Shopify themes for clothing stores? You're in the right spot! When it comes to running a Shopify clothing store, picking the right theme is a big deal. A great theme gives your customers a fantastic shopping experience in addition to enhancing the appearance of your merchandise. With tons of Shopify themes out there, it's tough to decide.
That's why we've got a list of the top 7 Shopify themes for clothing. No matter if you're a cute boutique or a big online store, these themes have everything – they look great, work great, and you can make them your own. 
How To Select The Best Shopify Themes For Clothing Stores
When you're choosing a Shopify theme for your clothing store, there are a bunch of important things to think about. Here's a breakdown:
Make It Your Own: Think about how much you can change stuff like colors, fonts, and how things are laid out. You want a theme that enables you to reflect your brand and offer your shop a distinctive appearance.
Apps That Play Well: See if the theme gets along with popular apps in Shopify. These apps can assist with tasks like emailing, accessing social media, maintaining merchandise, and monitoring the performance of your store.
Speed Matters: Nobody likes waiting around for a slow website. Look for themes that are all about speed. If your site loads quickly, more people will stick around to shop.
Mobile Love: Lots of folks use their phones to shop online. So, your theme has to be awesome on mobile. Verify that it functions and looks fine on tablets and mobile devices.
Showing Off Your Stuff: How your products are shown off and how easy it is to find stuff are super important. Check to see if the theme has great features like allowing users to choose several product variants, letting them zoom in on product images, and making it simple to find stuff.
Happy Customers: It's like when your friend tells you a restaurant is great – you trust them more, right? Having customer reviews and ratings on your products helps people trust your store and what you're selling.
Everyone's Invited: Your store should work and look good on different web browsers, like Chrome or Safari. You don't want someone missing out just because their browser is a bit different.
Keeping Up to Date: Make sure the theme you pick gets updated and works with the newest Shopify payment stuff. Regular updates mean the people who made the theme are still taking care of it.
So, when you're picking a theme, think about all these things to make sure your clothing store looks awesome and works great for everyone.
Top 7 Shopify Themes for Clothing Stores
Let's check out these 7 awesome Shopify themes that will make your clothing store look amazing!
1. Mavon
Do you intend to grow your clothesline? Mavon is the perfect Shopify theme to make your online clothing store shine. With its wide array of features, Mavon lets you create the fashion store of your dreams, tailored exactly to your vision. Whether you're all about fashion or have a unique niche, Mavon's flexibility suits any online clothing store.
Crafting your Shopify site with Mavon is a breeze, thanks to its user-friendly features and mobile-friendliness. For a seamless shopping experience across desktop, tablet, and mobile platforms, it adjusts flawlessly to any device. No coding skills? No worries! Mavon's drag-and-drop design lets you build a stunning online clothing store in no time, letting your creativity take center stage.
Mavon's Modern and Advanced Features:
EU Translations, Quickview, Sticky Header: Mavon comes packed with modern features to enhance user experience in Shopify theme for clothes store.
Image Rollover and Zoom: Engage customers with visual appeal, thanks to image rollover and zoom options.
Trust Badges: Build trust by showcasing trust badges on your site.
Why Mavon is Awesome for Clothing Stores:
20+ Flexible Sections: Customize your site effortlessly with Mavon's versatile sections, perfect for Shopify themes for clothing. Show off your products, create captivating visuals, and tailor your store's look – all with a few simple clicks.
Size Chart: Make shopping easy by including a size chart, reducing returns, and ensuring a smooth shopping journey.
Mega Menu: The Mega Menu makes browsing your products a breeze. Its stylish design and intuitive layout guide shoppers to find what they want quickly.
Lookbooks: Spark shopper inspiration with lookbooks featuring your products in stylish outfits.
Speedy Performance: Mavon shines with its speed optimization, providing a seamless browsing experience. It's designed to perform well in today's fast digital world.
Color Swatches: Help customers choose color swatches that allow previewing different options, boosting engagement.
Why Choose Mavon:
Latest Shopify Features: Stay up-to-date with Shopify's latest offerings for clothing stores.
Personalization Flexibility: Tailor your store the way you want.
Free Updates: Enjoy free lifetime updates for your theme.
Try Before You Buy: Unlimited free trial – pay only when you're ready to publish.
Dedicated Support: Get assistance when you need it.
Considerations:
No Free Version: No free version is available.
Rating: Rated 5/5 by users.
Price: Regular License: $280/year
Mavon is your ticket to an exceptional online clothing store. Elevate your brand, engage customers, and create a shopping experience that stands out with Shopify themes for clothing stores.
2. Impact
Looking for a theme that'll make your clothing store pop? Impact is the answer. It's not just modern and cool – it helps you create a store that grabs attention and keeps it. With built-in support for translations and color swatches, you can customize your Shopify clothing store to win over customers from all around the world.
No matter where your customers are, Impact makes sure your store speaks their language – literally and figuratively. And the best part? It's designed to work like a charm, loading fast and being super easy for visitors to find, even on search engines.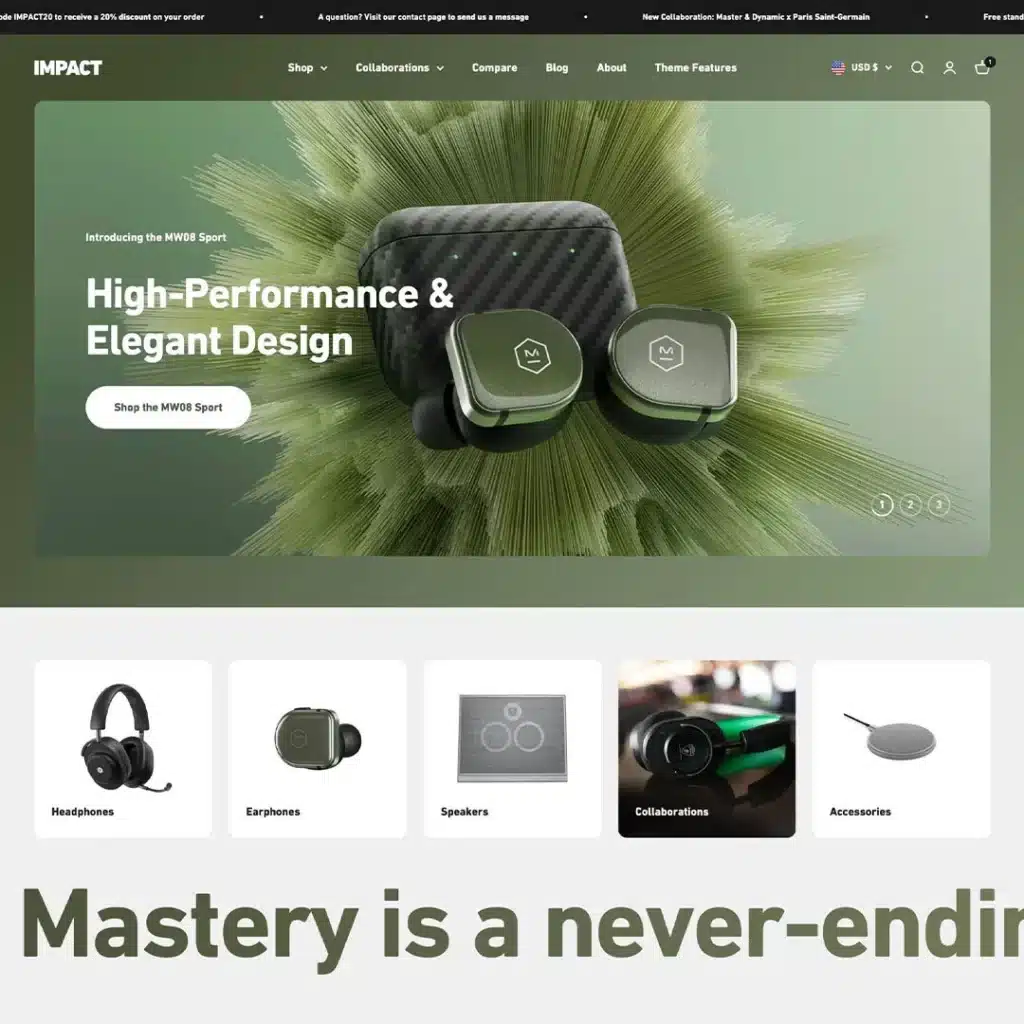 With over 35 sections to play around with, you can make your Shopify clothing store truly stand out. From showing off your products to giving out awesome deals, Impact gives you everything you need to create a stunning online store that works like a charm.
Why Impact Rocks for Clothing Stores:
Color Swatches: Let customers check out all the different colors and choices your products come in. It's like giving them a mini rainbow to explore while shopping.
Quick View: Your customers can sneak a peek at product details without leaving the page they're on. Shopping becomes super smooth and hassle-free.
In-Menu Promos: Catch eyes with special deals and top products right on your website's menu. It's like a mini billboard that's hard to miss.
Mega Menu: Keep things organized and easy to find with a menu that can handle loads of categories and subcategories. No more hunting around!
Sleek Modern Design: Impact isn't just modern – it's sleek and good-looking. Your store will match the style of today's savvy online shoppers.
Pros:
Easy-Peasy: It's designed to be user-friendly, and there's support and help if you need it.
Cons: It can get a bit pricey, especially for new businesses.
Rating: 4.7/5
Price: Regular License: $350/year
Impact isn't just a theme – it's your store's secret weapon for wowing customers and keeping them coming back for more, thanks to Shopify themes.
3. Creative
The Creative Shopify theme is your ultimate solution for showcasing your products beautifully across all devices, making it a fantastic choice among Shopify themes for clothing stores. Its elegant and professional design isn't just about looks – it's built to boost the shopping experience and skyrocket sales.
One feature that stands out is Quick Shop. It makes buying super easy for customers visiting your Shopify clothing store. And that's only the start. From helping customers find your physical stores using the Store Locator, to ensuring compliance with age restrictions using the Age Verifier for certain products, Creative's got your back. Plus, the Color Swatches feature adds to the appeal, letting customers quickly check out different colors for their clothing items.
But that's not all – with Quick View, customers can see product details without leaving the main page of your online store. That means a smoother browsing experience for them while they explore your clothing collection.
Why Creative is a Top Pick for Clothing Stores:
Store Locator: Guide customers to your physical stores effortlessly, giving them a great shopping experience and boosting in-store visits.
Age Verifier: Keep things above the board by verifying the age of specific products. The key is effectively serving your audience.
Color Swatches: Let customers easily see all the color options for a product. It's a simple way to make shopping more engaging in your clothing store.
Quick View: Speed up the browsing and buying process. Customers can see product details and make purchases right from the main collection page. It's like a shortcut to better conversions.
Pros:
Free Updates: Get theme updates without extra cost for your clothing store.
Support and Help: There's documentation and support available if you need it.
Cons:
Pricey: It can be a bit costly for clothing store owners.
Rating: 4.6/5
Price: Regular License: $350/year
The Creative Shopify theme isn't just a theme – it's a toolkit to level up your clothing store and make customers fall in love with what you're offering. If you work in the retail clothes sector, this theme will help you create a memorable shopping experience.
4. Expanse Themes For Clothing Stores
Looking to take your clothing store to the next level with Shopify themes for stores? The Expanse Shopify Theme has got you covered. With a collection of over 20 sections, this theme is a powerhouse that equips you for success. From nifty product sales points to various landing, product, and collection templates, it's a one-stop shop for all your needs. And if you're all about keeping the shopping spree alive, you're going to love the theme's cross-selling features.
Picture rows of recommended products, more from the same brand, more from the current collection, and cart upsells – these features will keep those sales coming. And the cherry on top? The custom promotion designer is versatile and powerful. It's your pass to developing marketing campaigns that encourage repeat business. Ready to step up your game with themes for clothing stores? Try the Expanse Shopify Theme today.
Why Expanse Rocks for Clothing Stores:
Robust Sections: With over 20 sections at your fingertips, Expanse is all about showing off your products and engaging customers. From slick product sales points to eye-catching meta fields, you've got everything to make your product listings and content shine.
Multiple Templates: Whether you're highlighting a specific product or showcasing collections, Expanse offers a variety of templates for landings, products, and collections. It's flexible enough to make stunning and functional pages that match your vision.
Cross-Selling Power: Keep the sales momentum going with Expanse's cross-selling magic in Shopify themes for clothing stores. Customers will discover recommended products, more from the same brand, related collection items, and cart upsells. It's like having a personal shopping assistant in your store.
Custom Promotion Designer: Make promotions that pack a punch with the custom promotion designer. Whether you want to boost product awareness or inspire repeat purchases, this tool helps you create eye-catching and effective promotions.
Pros:
Shopify Features: Expanse supports all the cool stuff Shopify offers.
Speed Approved: It's been tested for speed and got the thumbs up.
Cons:
A Bit Pricey: It might be a tad expensive for clothing stores.
No Live Chat: There's no live chat support available.
Rating: 4.5/5
Price: Regular License: $350/year
Ready to bring the Expanse Shopify Theme into your clothing store with Shopify themes free? Get ready to give your online shop the boost it deserves.
5. Nostalgia
Attention clothing store owners! If you're looking to infuse a touch of timeless charm into your online shop, the Nostalgia Shopify Theme has just what you need. Take a look at its Classic style – it's like bringing a hint of vintage sophistication to your clothing store's digital doorstep.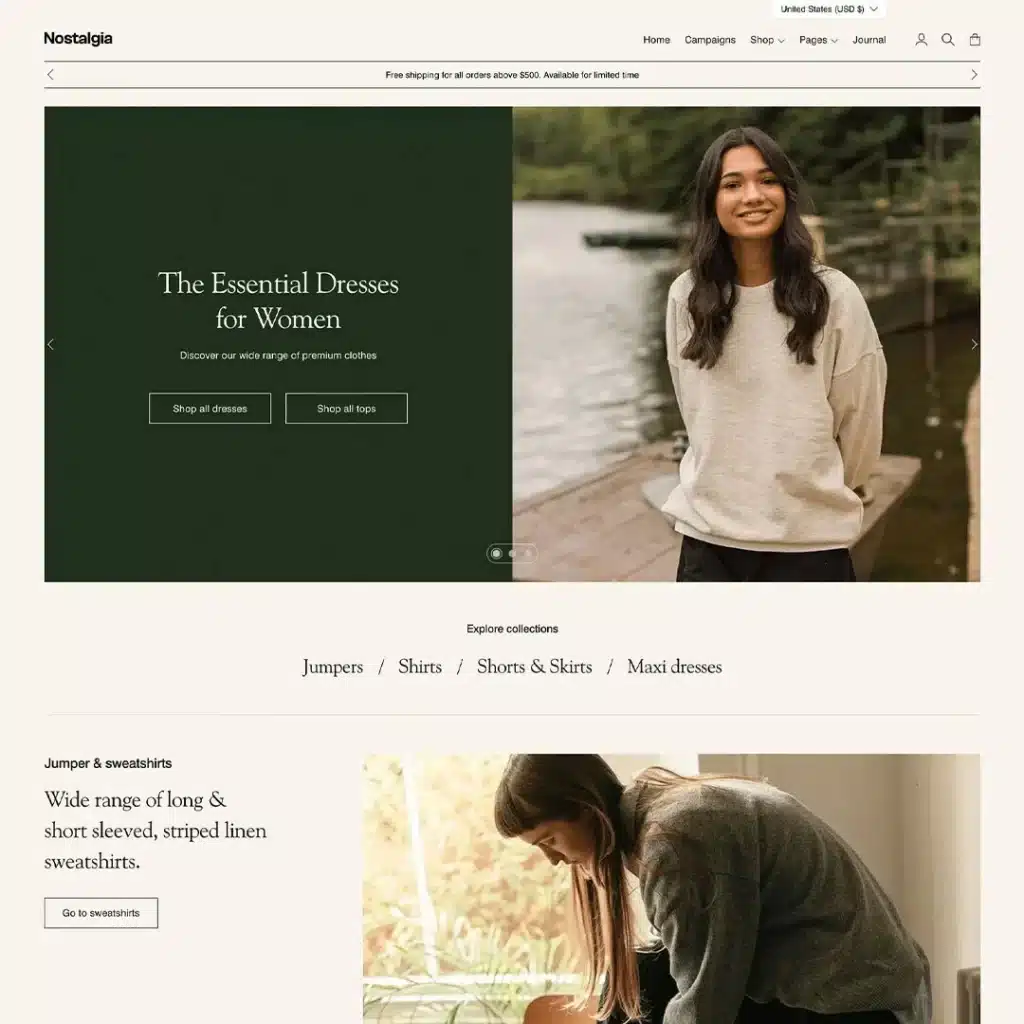 What Makes it Stand Out:
Classic Charm: The Classic style of Nostalgia brings a vintage flair to your clothing store, giving it that special timeless appeal.
Tailored for Clothing Businesses:
If you're all about clothing, this theme is designed with your needs in mind. It's here to showcase your fashion goodies in the best possible light, fitting perfectly into the world of themes for clothes stores.
Visual Allure:
The Classic style comes with a visually pleasing design that captures that nostalgic and elegant vibe you're after, giving your clothing products a real chance to shine.
Easy-Peasy Customization:
With customization options that are a breeze to use, you can make the theme match your brand's identity and make your clothing store truly stand out – a gem among the world of Shopify themes.
Ready to bring a dash of classic elegance to your clothing store? Give the Nostalgia Shopify Theme in its Classic style a whirl today!
6. Abode
Hey there, fellow clothing store enthusiasts! If you're on the lookout for Shopify themes for clothing stores that add a touch of chic charm to your online shop, let us introduce you to the Abode Shopify Theme. Explore its Birdie style – it's like inviting a burst of elegance into your clothing store's digital realm.
What Makes it Special:
Birdie Grace: The Birdie style of Abode brings a unique elegance to your clothing store, infusing it with a sense of sophistication.
Tailor-Made for Clothing Stores:
If your world revolves around clothing, this theme is tailor-made for you. It's designed to beautifully showcase your fashion treasures, fitting seamlessly into the realm of Shopify themes for clothes.
Visual Delight:
The Birdie style offers a visually pleasing design that captures the essence of grace and style, giving your clothing products the spotlight they deserve.
Customization Made Simple:
With user-friendly customization options, you can effortlessly make the theme align with your brand's identity, setting your clothing store apart from Shopify themes for stores.
Ready to embrace the Birdie elegance for your clothing store with Shopify themes for clothing stores? Dive into the Abode Shopify Theme in its Birdie style today!
7. Envy 
When you're on the lookout for the crème de la crème of Shopify themes for stores, nailing that clean and polished look to beautifully showcase your products is a must. And guess what? Envy Shopify is here to save the day – with our ready-to-go presets designed to give your online clothing store that sleek and modern edge. Brace yourself, because your customers are about to be seriously envious of how stunning your store looks.
What Sets Us Apart:
Picture-Perfect Presets: Our Envy theme comes with presets that are a dream come true for giving your clothing store a contemporary and stylish vibe, all set to catch your customers' envious gazes.
Special Features for Success:
The icing on the cake? Our theme comes packed with features like the event calendar, age verifier, and countdown timer, making it a walk in the park to promote your store's top-notch products.
More Choices with Color Swatches:
Give your customers the power to explore a range of colors with ease, thanks to our nifty color swatches feature.
Easy Product Exploration:
Our Shop the Look section and standout product options make it a breeze for customers to find exactly what they're after, and even give a boost to their average order value.
Making Envy Your Secret Success Weapon:
Don't let envy be negative – we're here to help you transform it into your secret success weapon with these powerful eCommerce website features.
What Makes Envy the Cream of the Crop for Clothing Stores:
Smooth Sailing with Cart and Checkout: Our Envy theme ensures your customers enjoy a seamless and user-friendly cart and checkout experience, paving the way for higher conversion rates.
Navigation Made Simple: Breadcrumb navigation is a breeze with Envy, ensuring your customers have a clear path within your site. It's like giving them a GPS for easy exploration.
Effortless Collection Browsing: The advanced collection page navigation feature in Envy lets customers smoothly navigate through categories and subcategories, ensuring a delightful shopping experience.
Pros:
Try Before You Buy: Go ahead and take it for a test drive with the free trial option.
Mobile-Friendly: It's built to look stunning on mobile devices, catering to the modern shopper.
Cons:
A Bit of a Splurge: It might lean towards the pricier side, but the value is worth it.
Quick View Absent: The quick view feature is not part of the package.
Rating: 4.70
Price: Regular License: $89
Ready to turn envy into your store's secret weapon for success among Shopify themes for clothing stores? Dive into the Envy Shopify Theme and elevate your clothing store's online presence today.