The beauty and cosmetic industry is having a great time lately. It's been growing a lot every year, and now it's one of the strongest online shopping areas. Last year, in 2022, the beauty and Shopify store for cosmetics business had a huge 143% increase in the number of orders and a 132% increase in how much people spent on these products.
This growth was way bigger than even the fashion industry, which only grew by 60%. Surprisingly, the pandemic, as bad as it was, actually helped the online beauty business get even better. More people started shopping for beauty stuff online.
But, here's the tricky part – beauty brands also have some tough challenges. The biggest ones are lots of competition, it costs more to get new customers, and people aren't staying loyal to just one brand anymore.
It can be difficult to attract repeat business in a crowded market. Brands end up spending more to attract new buyers, even if their products are really good. Building customer loyalty remains quite tough.
Having an online is good, but not enough. What you really need is a Store for cosmetics made just for beauty and cosmetic brands.
Ready to dive into the world of beauty and Shopify store? This manual serves as your success compass. It's not just about having a great product – we'll navigate through planning, marketing, and connecting with your customers. Whether you're a newbie or a seasoned pro, let's build your thriving beauty business together on Shopify.
Why You Should Bring Your Cosmetics and Beauty Store for Online with Shopify or Shopify Plus
In the past few years, big cosmetics names like Kylie Cosmetics, Huda Beauty, and Fenty Beauty have become mega hits online. They made millions even without having a real cosmetics store at first. This proves how awesome online shopping can be.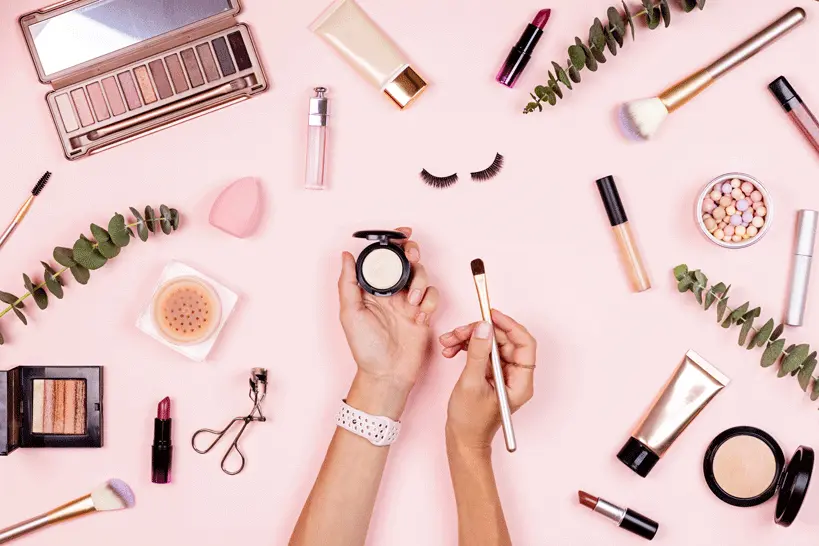 Facts about the Beauty & Personal Care market in the UAE:
In 2023, this market will make about US$1,161 million in revenue. It might grow a bit less each year (-1.29% CAGR 2023-2028).
Most of the action happens in Personal Care, making US$519 million in 2023.
The United States is the champ in making money (US$93 billion in 2023).
Each person in the UAE will make around US$122,000.00k in revenue in 2023.
By 2023, online sales will make up 27.5% of all Beauty & Personal Care sales. And when they sell online, these beauty brands aren't stuck in one place. Customers from all over the world can access them. That's more than they could with just a regular store.
A Step-by-Step Guide to Launch Your Cosmetics and Beauty Brand's for Online Store on Shopify
Discover 13 simple steps to create a winning online beauty store. Take our advice and start down the road to success!
🌟 Choose Your Theme
Before diving into selling your Shopify store, create a store design that mirrors your brand and showcases your products. Check out the cosmetics Theme Store for beauty and cosmetics themes you can personalize. Here are three options:
Prestige: A top choice with flexible layouts and stunning visuals to showcase your products prominently.
Broadcast: Ideal for a visual-focused, clean storefront, featuring a minimal design style and an easy-on-the-eyes blog layout.
Sense: Shopify store for cosmetics free theme, perfect for lean startups, offers detailed product layouts and a mix of visuals and storytelling.
These ready-made themes get your online journey started. For a custom touch, our cosmetics store designers can tailor your site's look to match your beauty brand's unique style.
🌟 Craft a Stunning Brand Identity and Design
When it comes to selling beauty products online, how your website looks really matters. The way it's designed and branded is super important.
Imagine this: You go to a beauty website, and wow, it looks amazing! You automatically trust their stuff. But if it looks boring or messy, you might not be so sure. That's why making a really good first impression that shows off your brand's special style is a big deal.
If you would like to make your website pleasant and attract visitors, use perfect colors, fonts, and eye-catching images.
And make sure your brand looks the same everywhere, whether it's online or not. This will help the customers to have a smooth experience, from finding you on social media to getting their package at home.
🌟 Simplify Product Exploration for Shoppers
Online retailers must ensure that clients have a seamless experience finding the ideal cosmetic goods. Streamlining this procedure improves the shopping experiences of clients and increases sales.
i. Personalized Recommendations with Product Quizzes
Use interactive quizzes on your website to engage visitors. They can receive specialized product recommendations by responding to a few questions. Because they feel valued as a result of this cooperative approach, they are better able to make informed judgments. You can also utilize the results of the poll to send them emails that highlight hair care products or make helpful recommendations based on their preferences.
ii. Easy Navigation Based on Needs
Simplify browsing by categorizing products based on customers' requirements. For skincare, offer options to shop by skin type or concern. If it's hair care, group items by curl type and goals. This helps visitors swiftly find what they're searching for.
iii. Display Relevant Combinations
On product pages, showcase complementary items together. For instance, pair a shampoo with a conditioner. Customers will be inspired to finish their beauty routine and learn more about your company as a result.
🌟 Use Engaging Visuals from Real Customers
User-generated content (UGC) is a game-changer for beauty and cosmetics store, especially with 'before and after' visuals. These images speak louder than written reviews, showcasing product benefits powerfully.
Using UGC on social media grabs attention and directs visitors to your Shopify store for cosmetics. Bouclème, for instance, shares '30 Day Challenge' results on Instagram and TikTok. Silk Oil of Morocco has a shoppable Instagram feed on its Shopify Plus site, inspiring customers to recreate beauty looks.
To gather UGC, motivate customers to share photos and videos in their reviews. Reward them with loyalty points for discounts or exclusive gifts. Encourage them to tag posts with a specific hashtag. Sharing customer content boosts product credibility, driving traffic to your Shopify store.
🌟 Build Trust with Authentic Trust Signals
Building trust in your beauty and cosmetics website involves more than just user-generated content (UGC) from customers. Various trust signals can enhance shoppers' confidence:
Third-Party Endorsements: Boost credibility by prominently displaying logos of respected organizations like beauty magazines or industry bodies on your online store for cosmetics. Skin Inc, a Shopify Plus retailer, does this effectively.
Awards and Accreditations: If your brand has been nominated or won industry awards, showcase these achievements. This builds trust and confidence in your products and brand.
Sales Counters: Showcasing recent purchases can guide potential customers and foster trust. Silk Oil of Morocco's website uses this tactic to great effect.
Security Badges: Provide secure payment badges to reassure shoppers about the safety of their card information during transactions.
Ethical/Sustainable Practices: As conscious consumerism grows, transparency about ingredients, sourcing, and eco-friendly initiatives is essential. Highlight ethical and sustainable practices, such as Bouclème's commitment shown below, to earn consumers' trust.
By incorporating these trust signals, you can create a more confident and engaging experience for your online beauty and Shopify store for cosmetics.
🌟 Offer Easy Replenishment Subscriptions
Many of us desire shinier hair, softer skin, or whiter teeth, leading us to regularly purchase our favorite beauty and cosmetics products. These items are perfect candidates for a 'subscribe and save' option.
If your customers frequently engage in this routine purchasing behavior, not offering a replenishment subscription could mean missing out on savings, as well as better customer retention.
Subscribers enjoy benefits such as convenience, cost savings, and an enhanced shopping experience.
To set up a subscription model, your online beauty Shopify store for cosmetics should have:
A subscription page that explains the perks and how the process works.
A clear FAQ section to address common questions.
An easy-to-use customer portal that allows subscribers to manage their subscriptions.
Swanky has assisted beauty brands in achieving this through Recharge. For instance, we integrated subscription options for Wilkinson Sword, offering 15% off orders. FFS experienced a 240% increase in revenue, along with improved conversion rates, after implementing a custom subscription setup on Shopify Plus. Learn more in our Wilkinson Sword case study.
🌟 Bundle Products for Value-Packed Deals
Supercharge your sales with product bundles! This clever tactic not only boosts your earnings but also introduces customers to new products. By offering a 'buy more, pay less' deal, bundles make customers feel they're getting more value.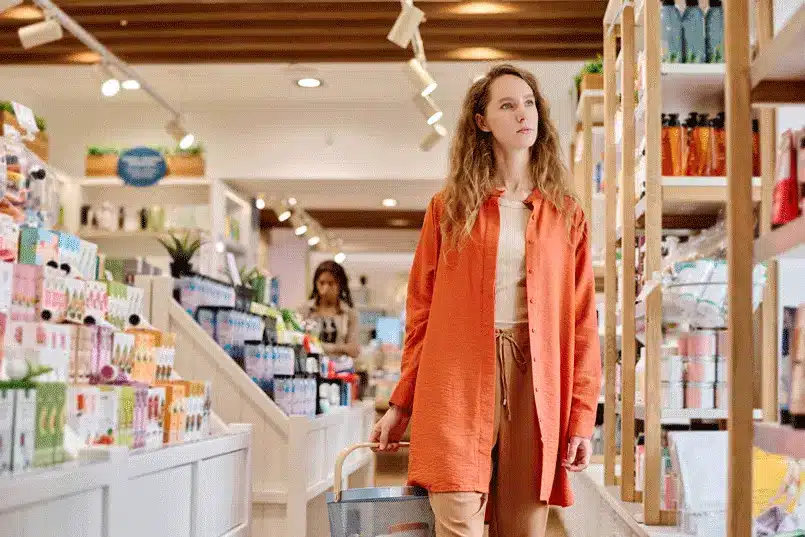 This works especially well for beauty and cosmetics brands that have products that naturally go hand in hand – like offering a combo of a razor and blades or a shampoo and conditioner for specific hair needs.
Check out Hismile, an Australian teeth whitening brand, and a Shopify Plus success story. They use bundles on their Shopify store for cosmetics, like their 'Stain Removal Bundle' featuring a stain eraser and color corrector serum. By using attractive colors, captivating images, and enticing discounts, they make these bundles incredibly tempting and significantly boost their sales.
🌟 Introduce an Irresistible Loyalty Program
In the beauty and cosmetics world, where choices are plentiful, retaining customers can be a challenge. Whether they're into makeup, skincare, or grooming, online shoppers have numerous options. Often, it's the brand with the most attractive offer that wins.
To stand out and keep customers engaged, consider a loyalty program. It's like building friendships while boosting your business. By offering special rewards, you create lasting connections and encourage repeat visits, which is highly valuable.
However, it's not just about giving points for purchases. Being creative is crucial. Treat your loyal customers to unique perks that make them feel extra special. Think of early access to new products, invites to exclusive events, birthday surprises, exclusive content, faster shipping, and even opportunities to contribute to charity.
Take 100% Pure, for instance. They use a sophisticated loyalty program (thanks to LoyaltyLion) that provides members with all the fantastic benefits we discussed.
🌟 Bring the In-Store Magic Online
When we can't try products in person or get in-store advice, it can be a hurdle for online beauty sales. Research shows 46% prefer trying beauty products before buying, and 18% seek advice from in store for cosmetics experts.
To bridge this gap, many beauty brands are getting creative with immersive online experiences that mimic traditional shopping. Innovative tech like Augmented Reality (AR) is changing how we engage with beauty online. Here are three examples:
L'Oreal's Virtual Makeup Try-On: Use AR to test makeup and hair colors in real-time for better decisions.
ILIA's Shade Finder: Take a shade match quiz or share a selfie to find the right skin tint or foundation.
Skin Inc's Skin Coach App: +SABI AI app uses AI to assess skin needs and recommend treatments based on factors like sleep and stress.
These innovations bring the in cosmetics store experience home, connecting physical and digital retail. For more on tech's impact, read our article on AR in the online fashion industry.
🌟 Showcase High-Quality Product Images
Step into a world of stunning visuals for your beauty and cosmetics products! "Showcase High-Quality Product Images" isn't just a tip – it's a game-changer for your Shopify store for cosmetics. In a digital era where customers can't touch or try products, images become your ultimate sales superheroes.
Imagine when visitors land on your site; images become their touchpoint with your products. High-quality product images act like a virtual touch, giving them a close-up, detailed view. These pictures go beyond being simple images; they weave stories, stir emotions, and showcase the distinctive qualities of each product.
You don't need to be a pro photographer; even a smartphone can do wonders with good lighting. Capture different angles, close-ups, and how-to shots. Clear, inviting images build trust, answer doubts, and make customers feel confident to buy. Sure thing! When it comes to the online beauty and cosmetics world, a simple picture can do wonders. It's like a mini-story that tells a lot and can easily turn visitors into happy shoppers.
🌟 Provide Detailed Product Descriptions, Uses, and Ingredients
When you're setting up your product page, remember to give your shoppers all the important details they need to feel confident about their choices. Here are some simple and effective tips for writing product descriptions that really engage your customers:
Clear Format: Create a consistent structure for your product descriptions so shoppers can quickly find the information they're looking for.
Ingredient List: Include a list of ingredients used in the product. Customers who have allergies or unique preferences may need this information in order to comprehend what they are purchasing.
Usage Instructions: Describe how your product should be used. Offer clear step-by-step instructions and helpful usage tips to assist shoppers in getting the most from their purchases.
Benefits Highlight: Explain the positive outcomes of using the product. Whether it's clearer skin or a radiant glow, showcasing the benefits can entice shoppers to click that "Buy" button.
By using these pointers, you can write product descriptions that not only inform customers but also attract their attention and influence them to buy your cosmetics and beauty items.
🌟 Sort Products by Skin Type and Body Area
When you're setting up your beauty and Shopify store for cosmetics, think about how your customers shop. Imagine if products were organized to match different skin types and specific body areas. It's like finding your favorite book in a well-organized library – simple and convenient.
For example, if you sell skincare items, you could create sections like "Products for Dry Skin," "For Oily Skin," and "Combo Skin." This way, shoppers can effortlessly discover what suits their unique needs.
Similarly, if you offer body care products, you might have categories like "Face Care," "Body Care," and "Hair Care." This helps customers zoom in on what they're looking for.
This smart organization makes shopping a breeze. It's like having a helpful guide showing you the way. When customers find what they need quickly, they're happier, and you're more likely to make a sale. So, why not make your store a shopper's paradise?
🌟 Create Tailored Combo Packs for Various Skin Needs
Boost Sales with Skin-Friendly Bundles.
Treat your shoppers to irresistible bundles! When it comes to beauty products, sorting them by skin type is a game-changer for your Shopify store for cosmetics.
Create special bundles or combo packs designed for different skin types. No need for customers to hunt through your whole collection – they can easily grab a pre-made combo that suits their skin's needs.
This clever strategy increases Average Order Value (AOV), saves time, and makes shopping simple. Hop on the bundling trend and deliver not just products but a tailored experience that leaves your customers glowing with satisfaction.