The online jewelry world is booming! From 2020-2024, it's expected to grow by a whopping USD 19.88 billion. With a growth rate of more than 15%, it's clear people are loving the convenience of online shopping. But, here's the thing: as more Shopify themes for jewelry brands jump online, including those who used to swear by their physical stores, catching a shopper's eye gets trickier. With so many options at their fingertips, how do brands show off their jewelry's true worth?
That's where your online shop's style steps in. The design of your Shopify Themes For Jewelry And Accessories Stores can make your jewelry stand out and feel special. So, let's dive into the top themes for jewelry brands on Shopify, and those must-have features that'll wow your customers.
8 Shopify Themes For Jewelry And Accessories Stores
Looking for the perfect online style for your jewelry shop? There's a bunch of Shopify Themes For Accessories Stores. Each one can give your brand that special edge. From our experience and research, and after trying out different themes with jewelry brands, we've shortlisted our top 8 favorites. Here's why these are the best:
1️⃣ Vivid by Slash Themes
Looking for the perfect theme for your jewelry Shopify store? Dive into Vivid by Slash Themes. Tailored especially for Shopify Themes For Jewelry Stores, Vivid promises a seamless e-commerce experience. Whether you're eyeing flash sales or visual storytelling, Vivid's got your back. 
Get ready for tools like countdown timers, color swatches, and translations for our European friends. Marketing features? Check! From promo banners to product reviews, this theme is all about boosting sales. And don't fret about tech updates; Vivid syncs perfectly with Shopify's latest features.
All these come with a tempting offer: a free trial. Decide to keep it? Just a one-time payment of $250. Make your Shopify Stores stand out with Vivid, where style meets functionality.
2️⃣ Monaco by Apparent Collective
Considering a luxurious upgrade for your online jewelry store? Dive into the "Monaco" theme, crafted by Apparent Collective. This choice, priced at $320, stands out among the best Shopify Themes For Jewelry And Accessories Stores.
If you're aiming to perfectly reflect the elegance of your jewelry pieces in high-volume Shopify jewelry stores or even physical storefronts, Monaco is a dream come true. 
Why? It brings storytelling to life through stunning visuals, making every piece of jewelry shine brighter. It also ensures that global audiences feel at home, thanks to multiple EU language translations. To top it off, there's a cool quick view for products, handy stock alerts, and engaging animations that enhance your user's browsing experience.
With the promise of free updates, speed, and the latest Shopify features, Monaco is your ticket to a dazzling online presence.
3️⃣ Woodstock by Boostheme
Dreaming of launching your online jewelry boutique? Dive in with "Woodstock" by Boostheme! Standing tall among the best Shopify Themes For Accessories Stores, this theme is not just chic but also user-friendly.
Whether you're planning a bustling online jewelry hub or venturing into dropshipping, "Woodstock" is built to support heavy traffic and sales. Selling to a European clientele? No worries! This theme speaks several languages. Plus, with cool tools like an event calendar and special marketing tricks, connecting with your customers just got a lot easier and more fun!
In essence, to stand out and be recognized as one of the best Jewelry and Accessories Stores on Shopify, give "Woodstock" a spin!
4️⃣ Kairo by Harmoniks
Looking to spruce up your online accessory store? "Kairo" by Harmoniks might just be the makeover you need. As a standout among Shopify Themes For Jewelry Stores, it's priced at a reasonable $180. This theme is tailored for a diverse array of products, making it a top pick for Shopify accessories online.
Setting up with Kairo is a breeze, ensuring you launch your online store quickly and effortlessly. Beyond its sleek design, Kairo is packed with features tailored for the modern shopper. Think of slide-out carts, product badges, and more.
If you're hesitant, you can always take it for a test drive with a free trial. Trust Kairo to give your online jewelry and accessory store that chic edge it deserves.
5️⃣ Unicorn by MPIthemes
Looking to give your Shopify jewelry store a fresh makeover? Dive into the "Unicorn" theme by MPIthemes, one of the standout best Shopify Themes For Accessories Stores. Priced at $150, Unicorn seamlessly blends style with functionality.
Not just a pretty face, it's tailored for drop shippers and those who love flash sales. Plus, it's packed with features to share your brand story beautifully. Unicorn supports multiple languages and offers unique tools like a countdown timer and age verifier.
Your customers will enjoy easy shopping with features like quick buy and an intuitive cart. Still on the fence? Give Unicorn a spin for free and see if it's the right fit. Elevate your online jewelry presence with this gem of a theme!
6️⃣ Nostalgia by AgniHD
Looking to sell jewelry online from home? Check out the "Nostalgia" theme by AgniHD. This theme is a gem for Shopify Themes For Jewelry Stores. Priced at $250, it wraps your jewelry in a classic and elegant design, making it shine!
The best part? Nostalgia is super user-friendly. It is designed for businesses with high sales and for those who enjoy sharing the history of their brand. A useful stock counter and fascinating features like product color selections are included. It supports a variety of languages.
Your customers will have a smooth shopping experience with easy-to-use options like quick buy and a slide-out cart. Plus, with beautiful image displays and detailed product views, your jewelry will sparkle online. Dive into online selling with style and ease with the Nostalgia theme!
7️⃣ Gem by Archetype Themes
Give your jewelry collection a dazzling digital display with the "Gem" theme by Archetype Themes. Specially curated for Shopify Themes For Jewelry And Accessories Stores, this theme, priced at $360, ensures your online presence is as radiant as your jewelry pieces. It caters to a global audience, offering multiple EU language translations. For those with brick-and-mortar locations, the Store Locator will guide customers right to your doorstep.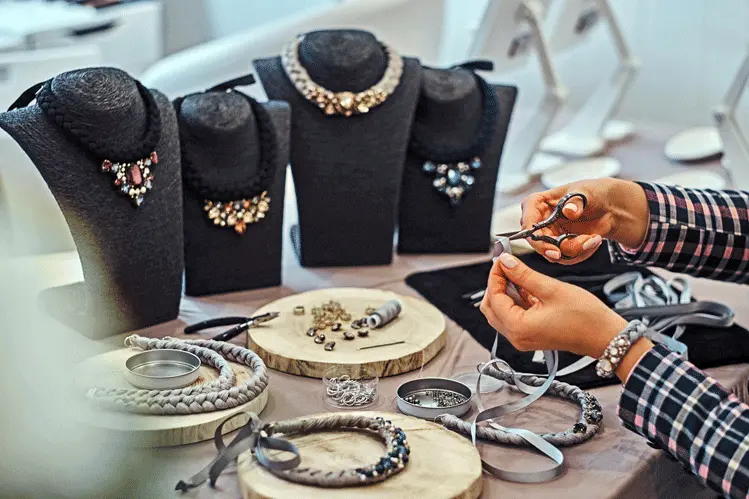 The Gem theme emphasizes visual allure, allowing for color swatches, high-resolution images, and intuitive sliders to display your products in their best light. For brands with rich histories, the theme provides tools for both visual and editorial storytelling. Moreover, drop shippers can rejoice, as the theme offers specific features tailored to their needs. 
Shopping has never been simpler for customers with handy features like the quick buy and slide-out cart. On the marketing front, the theme packs powerful tools ranging from countdown timers to reviews and enticing promo pop-ups. And the cherry on top? It's fully optimized for Shopify Plus Stores, ensuring regular updates and peak performance. 
Dive in with a free trial and once you're convinced, a single payment secures this theme for your store. With the Gem theme, let your jewelry shine brilliantly in the online world.
8️⃣ Xclusive by Someone You Know
Ready to make your jewelry and accessories store sparkle online? Check out "Xclusive" by Someone You Know. Priced at $350, this Shopify theme is all about combining style with simplicity.
For those eyeing the global market, Xclusive comes loaded with translations for several EU languages. Have special events or launches? Highlight them on the included Event calendar. And for those younger products? The age verifier makes sure only the eligible can purchase.
Convenience is one of the finest features of internet purchasing. With Xclusive's user-friendly features like quick buy, slide-out cart, and pre-order options, your customers will have a seamless experience. And if you're thinking big, this theme is optimized for Shopify Plus Stores, making scaling up a walk in the park.
The visual appeal of your products matters, especially in the jewelry and accessories niche. Xclusive lets your items shine with high-resolution images, dynamic color swatches, and animations.
Do you have a necklace that looks different in sunlight versus shade? Showcase it with the before/after slider. And with features like Image hotspot, your customers can get up close and personal with every product detail.
Navigation? It's a breeze. With an intuitive mega menu, enhanced search options, and a sticky header, browsing your store becomes as enjoyable as shopping. So, if you're keen on giving your online store a makeover that matches its elegance, Xclusive is the way to go.