If you want to grow your Shopify business, increase your profits, and attract new clients, you must make sure that purchasing from your website is simple for everyone, regardless of the language they speak.Shopify, a rapidly growing Canadian e-commerce company, is here to support billions of online shoppers worldwide. Thanks to Shopify's translation apps, translating your Shopify store into Arabic and different languages is as easy as pie.
This means people from various corners of the globe can shop comfortably in their preferred language, just by selecting it from a user-friendly menu or flag. It makes going shopping much more enjoyable and convenient for them.
Top Applications for Translating Your Shopify Store into Arabic
A broad range of applications are available from Shopify to help with language support. These apps employ a variety of features and methodologies. Some can translate the content for you, and others do not offer this service. A few of them use smart technology and professional translators to make your content outstanding.
You have several alternatives for Shopify's language tools thanks to this. But don't worry; we've chosen the most well-liked ones to help you make a choice.
1. Transcy
Shopify Rating: 4.8
The go-to translating your store into Arabic by Transcy, which is ideal for companies of all sizes looking to reach clients worldwide and get past language hurdles. Its user-friendly interface and straightforward setup make managing all of your translations in one location a snap.
Key Features:
Automatic Currency Converter: Supports over 167 currencies and seamlessly integrates with Shopify Payments on the Checkout page.
Multilingual SEO Optimization: Boosts your Shopify store's visibility on search engines and makes your website more appealing in different languages.
Auto-Update Translations: Automatically keeps your translations up-to-date for new pages and changes to existing content.
Geolocation Auto-Detect: Provides support for 246+ countries and territories worldwide, ensuring a smooth shopping experience for your customers.
Pros:
Visually Appealing Switcher: Offers an attractive language and currency switcher that won't slow down your site.
Daily Exchange Rate Updates: Keeps you informed with daily exchange rate updates and ensures currencies are rounded correctly.
Cons:
Glossary Translation Feature: The glossary translation feature is not available at the moment.
Support for Concerns: The app may not have comprehensive support for addressing grievances and technical issues.
2. Weglot
Shopify Rating: 4.7
Meet Weglot, a tech startup that kicked off in France in 2016. Its goal? To help businesses make their websites speak different languages. Weglot is well-known as the top-rated multilingual plugin in the WordPress directory, and it offers a quick and user-friendly way to translating your store into Arabic.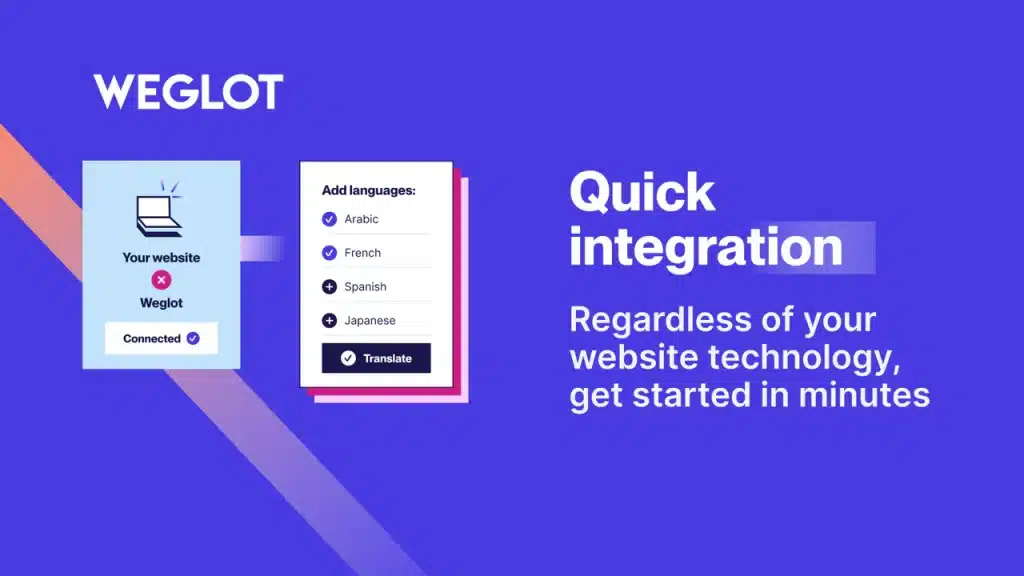 Key Features:
Easy Integration: Weglot smoothly becomes part of translating your Shopify store into Arabic, working with your tech and speaking any language you need.
Smart Translation: Weglot can automatically translate your content into over 100 languages, making it super versatile.
SEO Boost: It also helps with SEO by ensuring Google indexes your translated pages.
Pros:
Simple Setup: Weglot is easy to set up and use, even for beginners.
Centralized Translation: Manage all your translations conveniently in one place.
Cons:
No Import/Export: Unfortunately, you can't import or export translations with this app.
Limited Basic Plan: The basic membership has restrictions, such as not offering unlimited languages.
3. Langify
Established in 2014, Langify is a cloud-based platform based in Herford, Germany, that helps eCommerce businesses make their translating Shopify store into Arabic multilingual without any coding skills required. The user-friendly interface of Langify makes it simple for companies to locate and translate their material.
Key Features:
Seamless Integrations: Langify easily connects with various platforms like Gift Reggie, Recomatic Related Products, Store Pickup + Delivery, Searchanise, Cross-Sell, and Instant Search +.
Shopify Compatibility: It works well with Shopify's built-in translation features and quickly adapts to any platform changes.
SEO Enhancement: Langify automatically improves your store's SEO by adding optimized href lang and canonical tags.
Export Function: You can export existing translations for backup or untranslated content for professional translation.
Pros:
Right-to-Left Support: Langify supports languages that read from right to left.
Control Over Auto-Translations: You can add and edit auto-translating Shopify store into Arabic content.
Easy Setup: Setting up essential Langify features, such as the language switcher, redirection, and currency options, is straightforward and can be done in just a few clicks.
Cons:
Pricey: While it offers many features, Langify comes at a relatively high cost.
Performance Concerns: Some users have reported longer loading times and delays when using the app.
4. LangShop To Translating Your Store Into Arabic
Shopify Rating: 4.5
Introducing LangShop, translating your Shopify store into Arabic language and currency ally. Think of it as a super translator and currency converter combined. With LangShop, you can make your online store speak 241 languages and accept payments in 80 different currencies. This implies that you may communicate with clients from across the globe.
Key Features:
Translation History: LangShop keeps track of all your translation changes so you can easily see what's been done.
Background Translation: Translate your store in the background while you work on other tasks, making it super convenient.
Translation Options: You can choose the best translation suggestions from sources like Google, Yandex, Baidu, Watson, Bing, and more.
No Limits: Whether you're on a basic or advanced plan, LangShop won't restrict the number of words or visitors. Everyone gets access to auto-translate.
Pros:
Import/Export: Easily move multilingual information to and from your store in different formats like CSV, XML, XLS, and JSON.
User-Friendly Dashboard: LangShop comes with a dashboard that's simple to use and helps you keep an eye on all your translations and languages.
Works with Other Apps: It even plays nice with content from other apps.
Cons:
Pricey for Smaller Businesses: While LangShop is great for businesses of all sizes, the $34 per month price might be a bit high for smaller ones.
Advanced API: If you want the fancy API stuff, you'll need to go for one of the pricier membership packages.
5. G | Translate
Shopify Rating: 4.8
Meet G | translate, your language buddy since 2008. It exists to facilitate effective customer communication and increase sales. GTranslate uses the language magic of Google Translate and Bing to turn translating your Shopify store into Arabic into a multilingual wonder, supporting a whopping 103 languages spoken across the globe.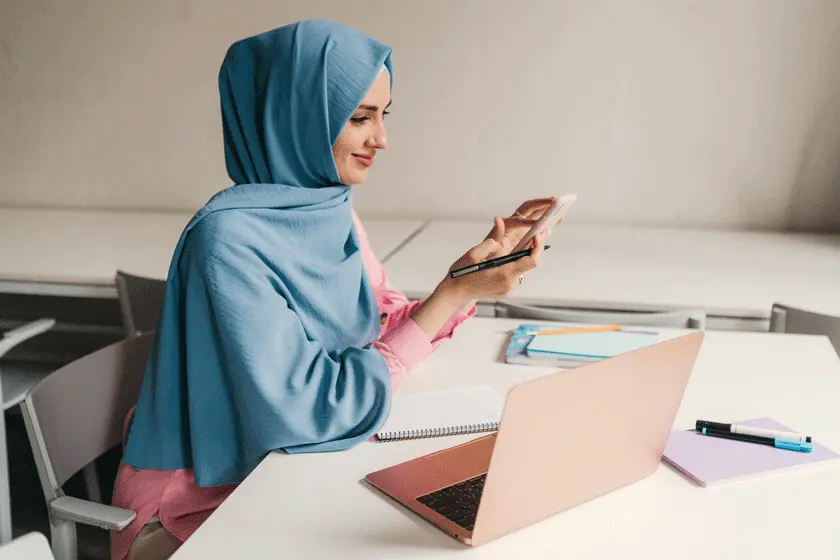 Key Features:
Translation Made Easy: GTranslate effortlessly translates most third-party apps on your eCommerce store.
Start for Free: You can begin using GTranslate without any annoying upgrade messages.
Choose Your Style: GTranslate offers various ways for your customers to pick their preferred language, like dropdown menus and flags.
Quick Translation Cache: It has a clever system that speeds things up, especially for popular languages.
Pros:
Upgrade Options: If you decide to go for the paid plans, you can unlock extra features like translating URLs and setting up sub-domains for each language.
Edit Translations: You can fine-tune and improve translations easily, and there's a dashboard with helpful metrics and insights.
Cons:
Free Version Limitations: Some advanced features, like note-taking, editing translations, and super-advanced multilingual SEO, are only available in the paid versions.
Import/Export Challenges: Unfortunately, there's no straightforward way to import or export translations, which might be a bit of a puzzle for some users.